2019 Arts of the Holidays Show & Sale
CALL FOR ENTRIES
Entries Due: September 13, 2019
Show Dates: Nov. 8 – Dec. 21, 2019
PURPOSE Our goals are to create a unique shopping experience for selective buyers; provide a venue for artists to sell their work, and raise funds for the Art Center. Work will be selected for sale considering quality, price, and appropriateness for holiday gift giving in an upscale, suburban market. Buyers will take items with them when they buy. We may replenish work that sells as the artist supplies us with more items.
ELIGIBILITY The Arts of the Holidays Show & Sale is open to all artists. Past experience tells us that jewelry, glass, functional pottery, and fiber are particularly popular for gift giving.
AUDIENCE Our target audience includes the Art Center's constituents, West Metro residents and the art-interested from throughout the Metro region looking for a unique, local gift-buying experience. We open the show with a lively reception for artists, their guests, and our student and member base.
LOCATION The sale is held in the Laura H. Miles Gallery at the Minnetonka Center for the Arts.
PRICING Statistics from previous years show that most items sold retailed at less than $100. Next most popular price point was $100 to $200. More expensive works sell but in smaller quantities.
GUIDELINES
Apply by emailing images of your work, with medium and pricing details, to bbowman@minnetonkaarts.org on or before September 13. Examples should represent the price range and type of work you would submit to sell.
Or you may apply by mailing images on CD or flash drive, using the entry form below, which includes your name, address, phone, e-mail, medium and price of each work submitted. Include a self-addressed stamped envelope if you'd like your images returned.
All work must be original and completed by the named artist. Mass-produced items, items made from kits, items made primarily from unaltered manufactured components, and offset lithograph reproductions will not be considered.
Media considered includes painting, drawing, sculpture, jewelry, glass, fiber, photography, ceramics, printmaking, wood, multi-media. Jewelry, pottery, fiber, and glass have proven especially popular. 2D work should be framed, ready to hang or wrapped for display in bins. Prices below $200 sell best.
You will be provided with inventory sheets and price stickers for marking your items.
The Artist's commission will be 60%.
We will secure your work in locked cases for jewelry and smaller items and with a security system and 24-hour video surveillance.
We will promote this event extensively, with a promotional postcard and multiple features in our newsletter, community calendars, social media, ads in local publications, news releases to print and broadcast media.
The Grand Opening will be held Thursday, Nov. 7, 6 – 9 p.m. It is free and open to everyone ­— artists are encouraged to attend.
Exhibiting artists will receive event announcements (print and digital) that may be sent to clients or posted to websites or social media. We will also provide a URL link to the Arts of the Holidays web page and Facebook event.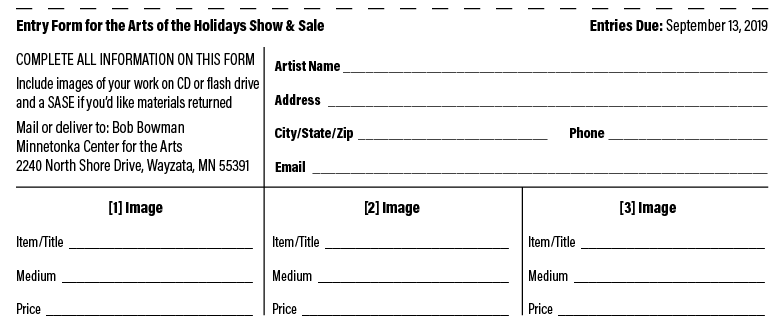 Important Dates
SEPTEMBER 13
Entry Deadline
SEPTEMBER 22
Notifications by email
OCT 29 (12-8)
OCT 30 (12-4)
Intake
NOV 7 (6-9)
Grand Opening
JANUARY 2 & 3 (11-4)
Pick up work
QUESTIONS?
Contact: Bob Bowman
952-473-7361 x. 170
bbowman@minnetonkaarts.org
2018 Arts of the Holidays slideshow