2019 Boathouse Tours
June 29
Tours 9:30 a.m. – 12:00 p.m. and 2:00 – 5:00 p.m.
Light lunch 12:00 – 2:00 p.m.
Tickets:
HALF DAY $125 Member / $140 Non-member
FULL DAY $200 Member / $200 Non-member
Join us as we explore some of the boathouses of Lake Minnetonka by bus. We will be allowed to walk through at least four boathouses during each tour session, with a different set of boathouses featured in the morning and afternoon. Author Melinda Nelson and photographer Karen Melvin of Boathouses of Lake Minnetonka will accompany the tours and share stories and information about these unique (and endangered) structures captured in their book.
Our in-house chef Melinda Alves will be catering lunch, so you can enjoy a half or full day with us exploring these incredible boathouses.
Space is limited so be sure to reserve your spot today!
Photos shown by Karen Melvin. Boathouses of Lake Minnetonka is available for sale at the art center and through Amazon.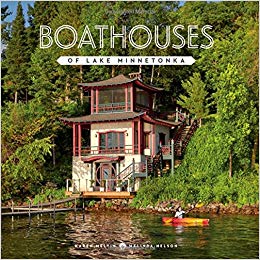 ---
Chef Melinda's lunch for all tour participants served Noon – 2 p.m.
Boathouse Tour Lunch
Sweet BBQ chicken sliders
Fresh fruit
Cream cheese, green olive, and toasted walnut tea sandwiches
Caprese skewers
Salads
Spring pea, radish, cucumber, tomato, and carrot on greens with creamy dill vinaigrette
Strawberry, blueberry, asparagus, and heart of palm on greens with honey-mustard vinaigrette
Asian chicken and wild rice with peapods, mixed peppers, green onion, celery, and water chestnuts with sesame vinaigrette
Mixed Minnesota fruit cobbler with fresh whipped cream